Disney's Role in our Lives
Since Disney hit our screens in 1937 with Snow White and the Seven Dwarfs we have been mesmerised by the enchanting fairy tales, catchy sing-a-long songs, beautiful princesses and magical 'happily ever after' endings. Watching, reading and singing Disney is one thing we can all relate to growing up. Aside from the wonderful costumes and fascinating props Disney jewellery is something that really makes the movie's stand out from the crowd.
The entire team here at Diamond Treats is a fan of Disney, every single one of us without exception and after embracing our inner childhood spirit we embarked on a mission to bring every memorable piece of Disney Jewellery to life. The following realistic renditions were produced by our own designers and if anyone is interested in the CAD drawings of any of the featured pieces please do not hesitate to send us an email.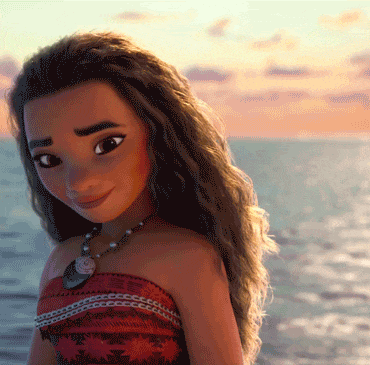 In 2016 Disney released Moana. A fun, adventurous and daring tale set in a glorious fictional island called Te Fiti inspired by the islands of Polynesia. Just watching the first 5 minutes of the movie will have you feeling like you are in a tranquil paradise full of sun, sea and sand. Moana's precious necklace plays a huge role in the movie, not only does it help protect her people and save her island, she was gifted it by her late grandmother making it very sacred to her.
How we brought Moana's necklace to life
The necklace itself is made from a dark brown macramé cord with eight mother of pearls intertwined. The pendant is a blue chalcedony crystal. This stone is calming and encourages reflection and self-meditation. Chalcedony is also said to absorb and dissolve negative energy so it is not passed on to its wearer making it the perfect piece of jewellery to wear on adventures.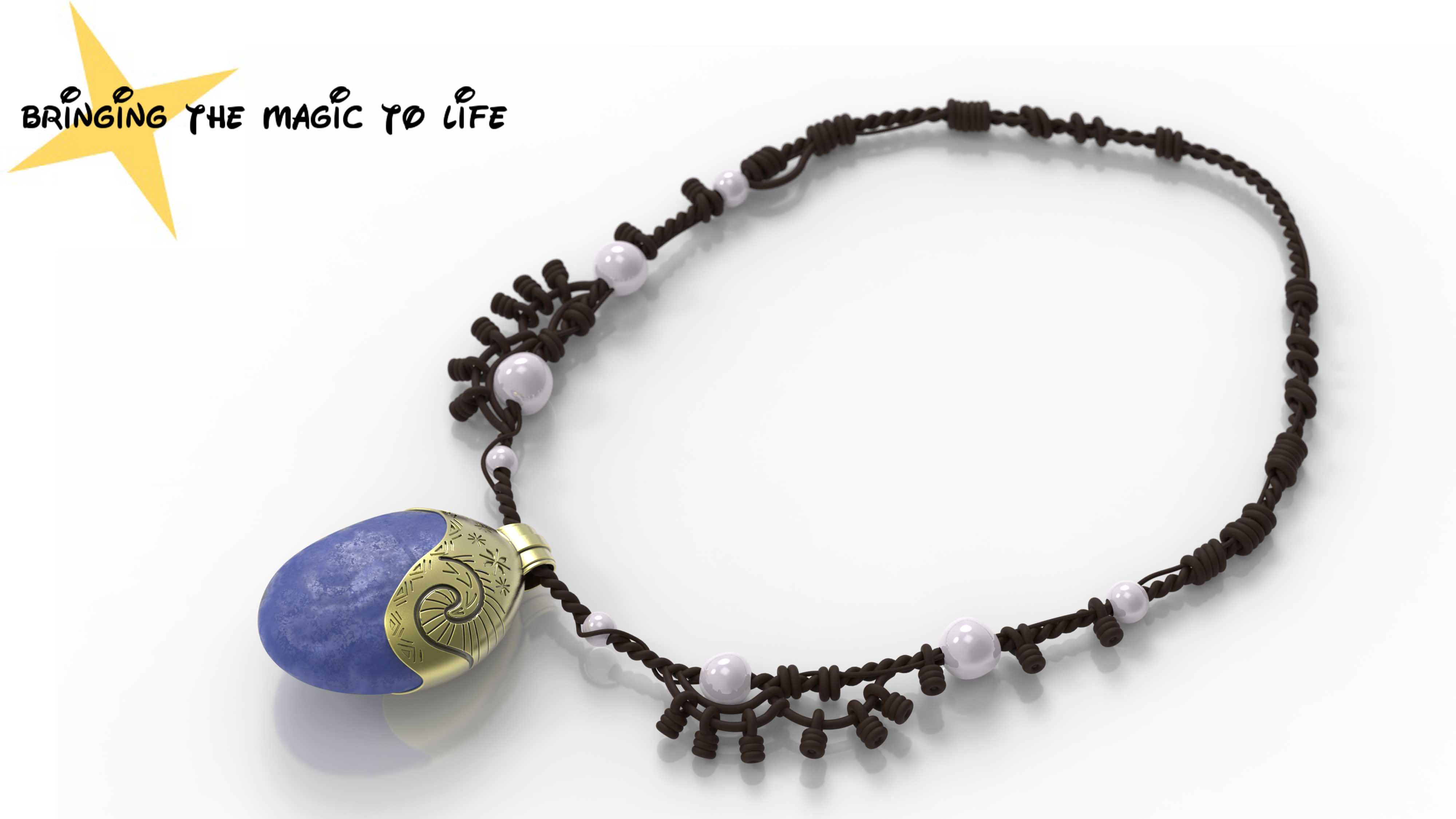 Cinderella is one of the most well-known Disney princesses to date. When we think about true 'happily ever after' we think of Cinderella's story. Poor Cinderella was kept in the house doing chores day after day by her evil stepmother. One day the Prince held a ball and not surprisingly she wasn't allowed to attend. However, Cinderella's fairy godmother came to her rescue on the night and gave her a magical dress, crown, horse, and carriage! Although Cinderella's glass slippers are the real catch of the movie, we have recreated Cinderella's dazzling diamond stud earrings – after all, diamonds are a girl's best friend!
How we brought Cinderella's earrings to life
The studs are made from 18ct white gold encrusted with 18 smaller diamonds and one large diamond in the centre. These studs are luxurious, timeless and classic just like our very own Cinderella!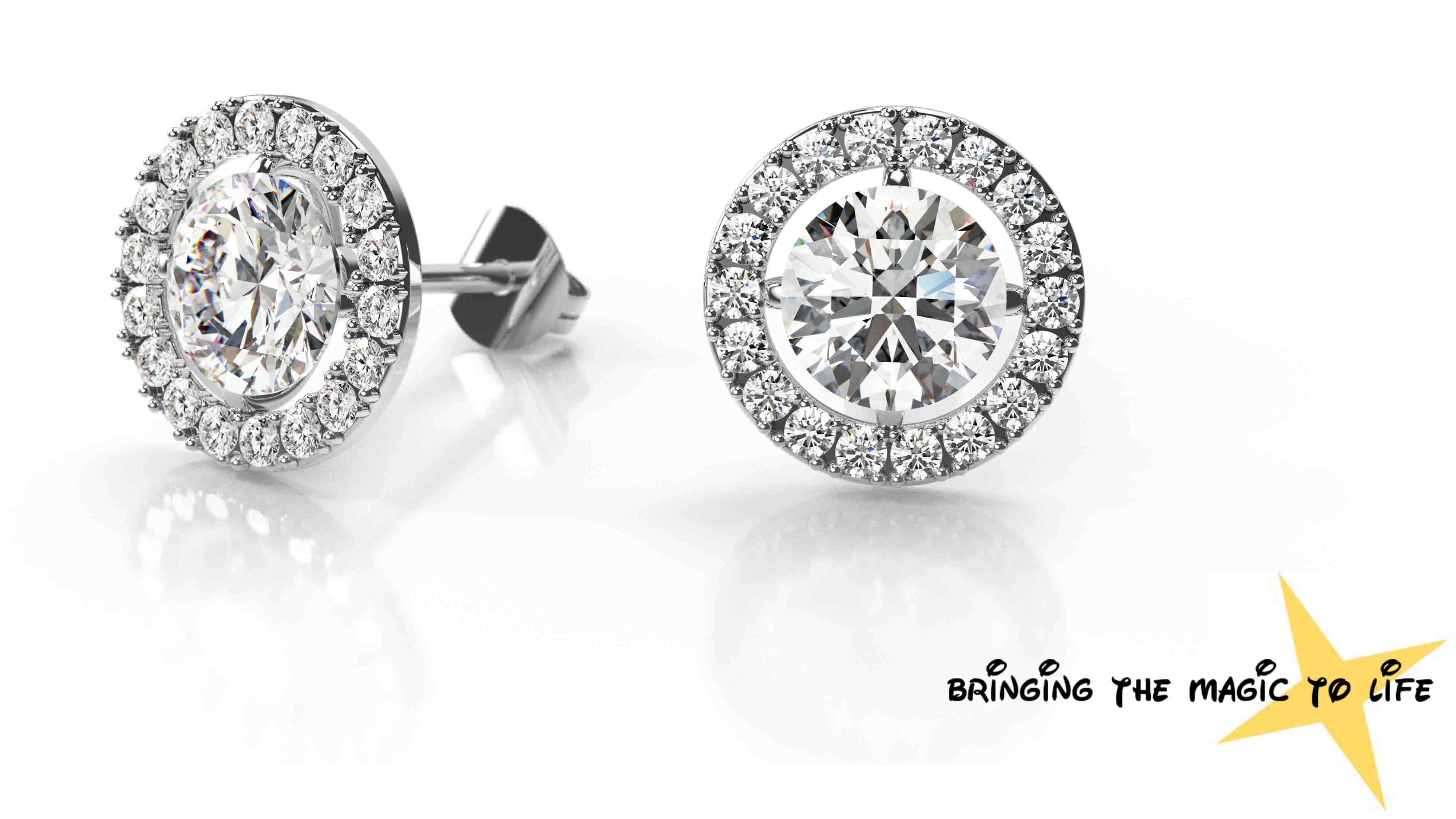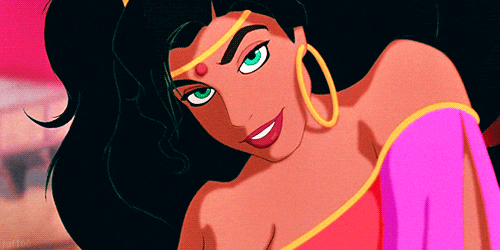 Released in 1996, The Hunchback of Notre Dame is one of Disney's classics that definitely pulls on the heartstrings. At the centre of the movie is a deformed bell ringer named Quasimodo who is held captive in the bell tower. All Quasimodo wants to do is live like the others do and mix with the people of Paris, however, Frollo, Quasimodo's adopted father, intends on keeping him locked in the bell tower for life.
Esmerelda is not a typical Disney princess in fact she isn't a princess at all! Esmerelda is a kind and loving gypsy who helps Quasimodo break free from the ties Frollo has on him and encourages him to leave the bell tower and live his life with the rest of the city.
How we brought Esmerelda's jewellery to life
We have designed large thick 18ct gold hooped earrings and a stack of thick gold bangles to recreate Esmerelda's look. Yellow gold is the key material and the more layering the better! The jewellery we have created is simple and relaxed yet bold at the same time – the perfect way to compliment Esmerelda's personality.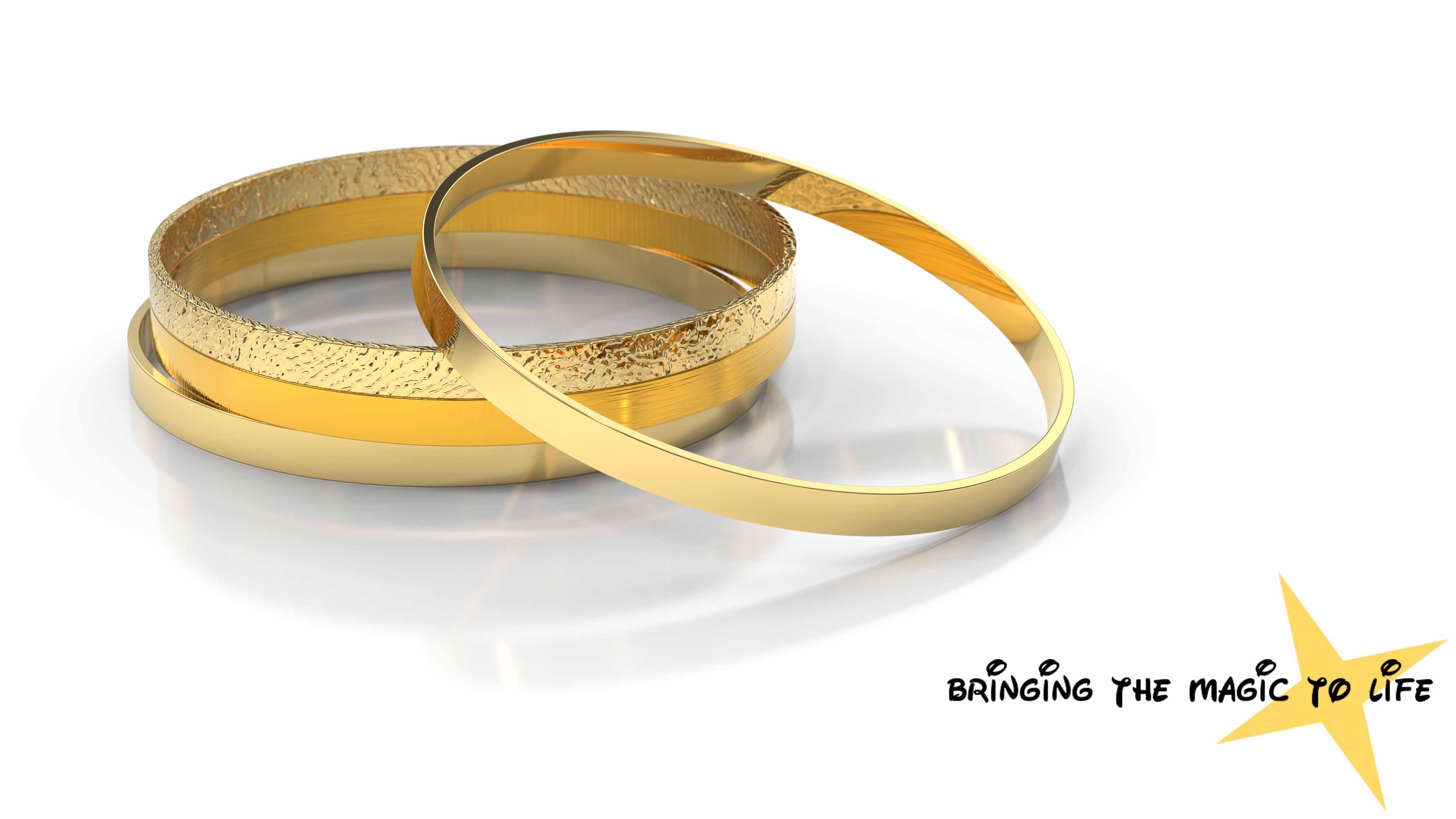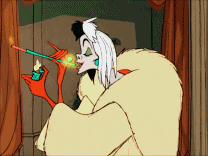 101 Dalmatians – If you don't already have a dog this Disney movie will make you want to own one (or several) immediately. The movie is about a litter of 99 Dalmatian puppies who are on the run from Cruella de Vil - an evil lady who wants to kill the puppies and use their fur to make coats. Cruella tries to steal the puppies but luckily with the help of the Dalmatians' mum, dad and other dogs who live in the area the puppies manage to escape and return home safely while Cruella ends up arrested and taken to prison.
Cruella is a very flamboyant and extravagant lady who accepts nothing less than the utmost finest things in life.
How we brought Cruella de Vil's ring to life
The ring itself is made from solid platinum – only the best for this larger than life lady! The oversized stone in the centre is blue moonstone which is considered to have the power of a goddess.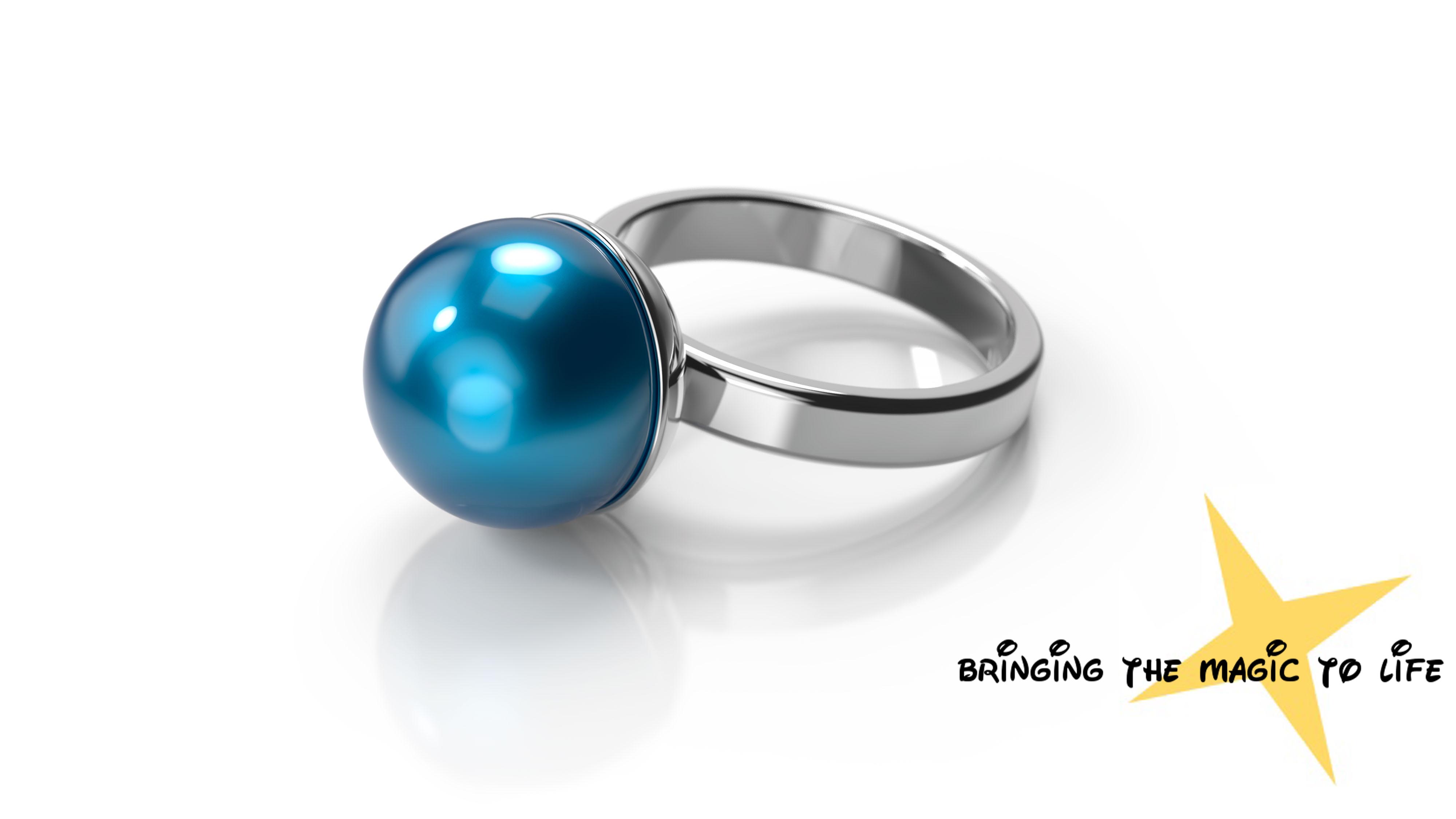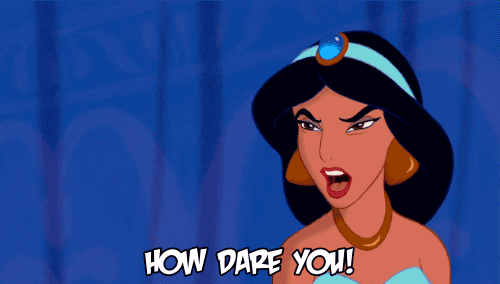 Disney took us on an Arabian adventure in 1992 with the magical and mystical film Aladdin. One of our favourite Disney songs of all time 'A whole new world' made its famous debut in this movie and for that alone we are forever grateful!
Talking genies, magic lamps, and mysterious caves are just a few things we love most about the movie, however, the unforeseen blossoming romance between a 'street rat' named Aladdin and the beautiful princess of Agrabah, Jasmine, melts our hearts every time!
How we brought Jasmine's jewellery to life
As you can imagine, being an Arabian princess, Jasmine's jewellery is just exquisite. A statement V-shaped 18ct gold necklace is all you need to add a touch of Agrabah to your look!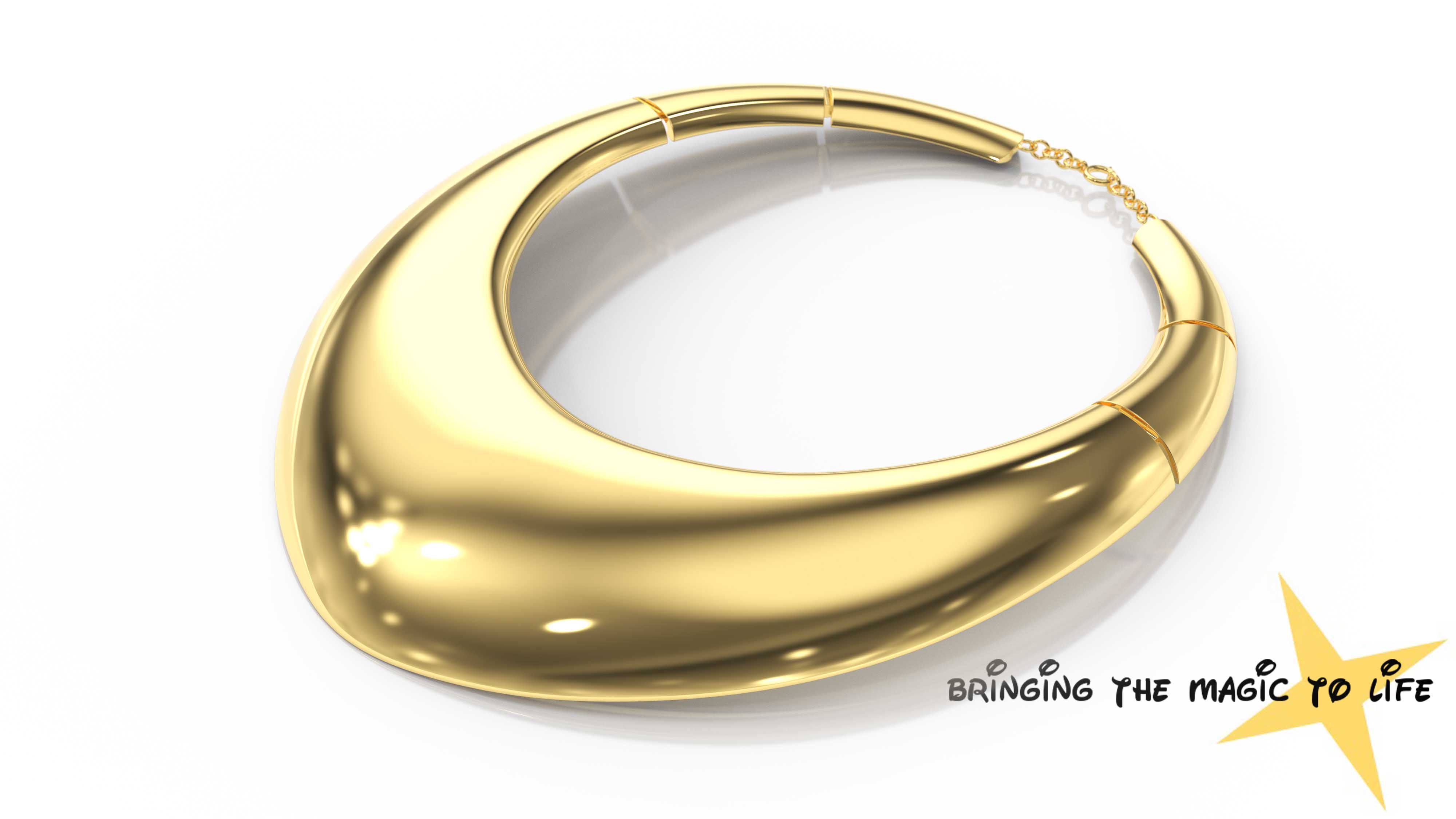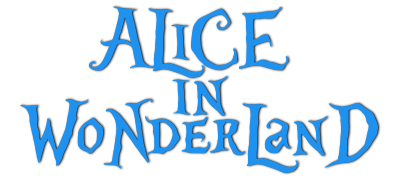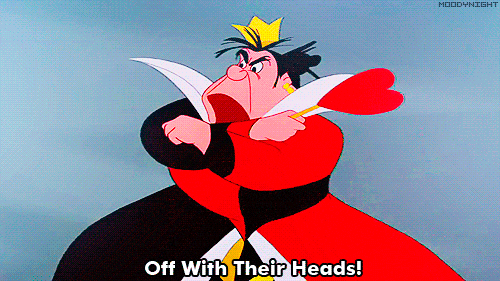 Short-tempered, bold, defiant and abrupt are just a few words to describe the Queen of Hearts. The queen is just one of the many wacky characters Alice meets on her adventures in wonderland.
The Queen of Hearts isn't dripping in fine jewellery and diamonds however one thing that has really caught our eye are her gorgeous drop earrings – in this case, less is definitely more!
How we brought the Queen of Hearts' earrings to life
To recreate the Queen of Hearts' jewellery, we have used solid 18ct yellow gold earring drops that have been designed in a long curved triangle shape. This shape is bold enough to stand out from the crowd and the soft edge design will compliment almost any face shape. We are sure that, like the Queen of Hearts, even the angriest and insolent of people would give the thumbs up to these show-stopping earrings.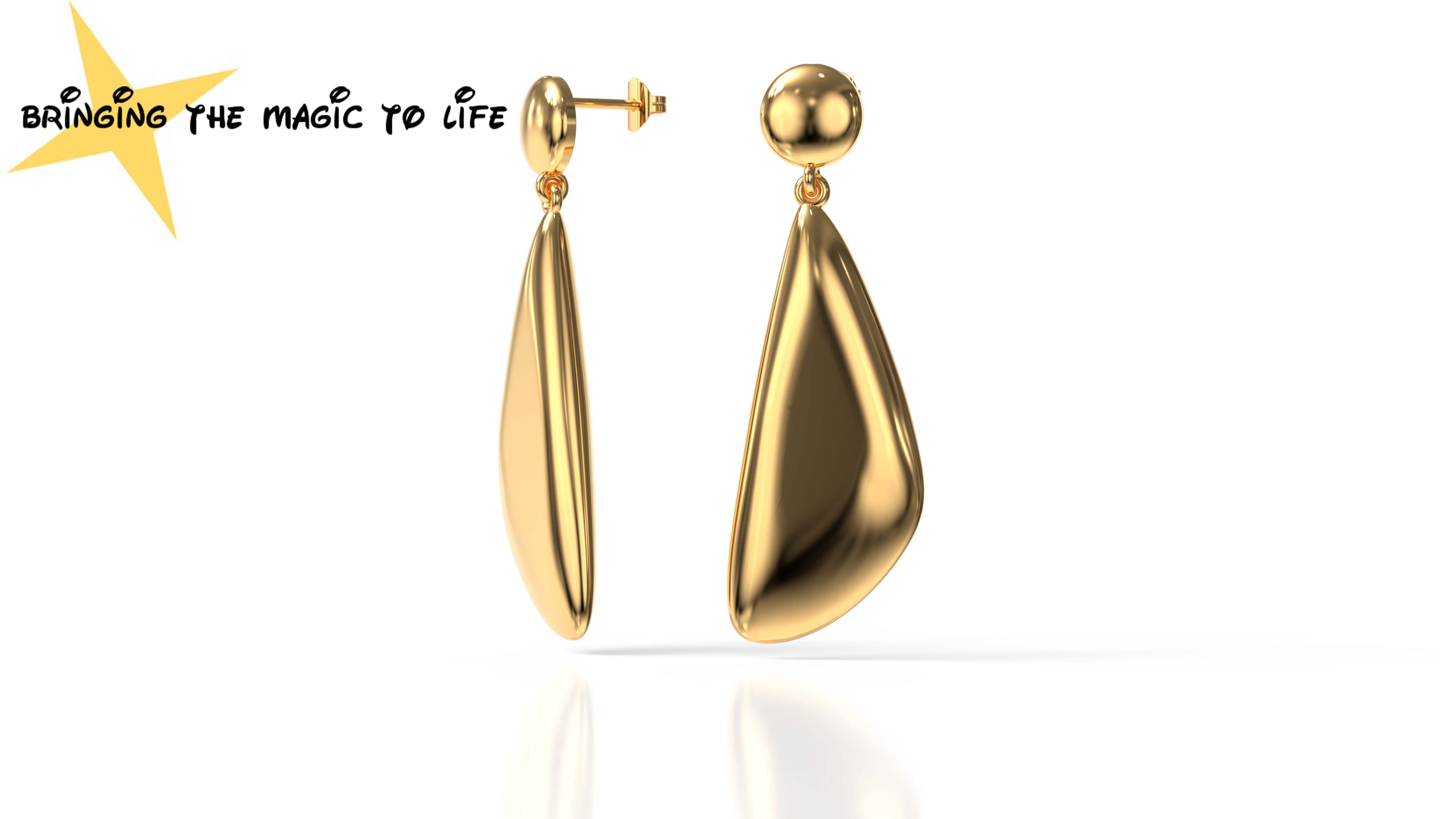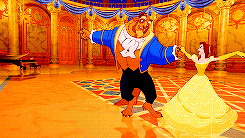 Disney taught us the life lesson to never judge a book by its cover in this love story between a beautiful young lady, Belle, and a hideous and short-tempered Beast. Belle thought her life was over when she was held captive in a castle by the beast – never once did she think their relationship would blossom into a genuine romance. Many years ago a prince was put under a curse and turned into an ugly beast to match his then very ugly personality. When he met Belle, she brought out the kind, gentle and generous side to him – a side he never knew he had. They fell in love and the curse was broken. The beast transformed back to his former self and Belle became the princess he was always looking for.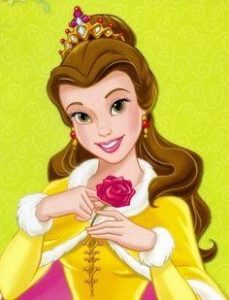 How we brought Belle's jewellery to life
We have made Belle's drop earrings with a circular natural ruby stone followed by two gold teardrops – the perfect shape for a beautiful princess. Belle's tiara really has the 'WOW' factor made with 18ct yellow gold, fresh pearls, zirconia crystals, and natural ruby stones. Ruby is worn as a symbol of love and loyalty – a perfect match for the beauty and the beast!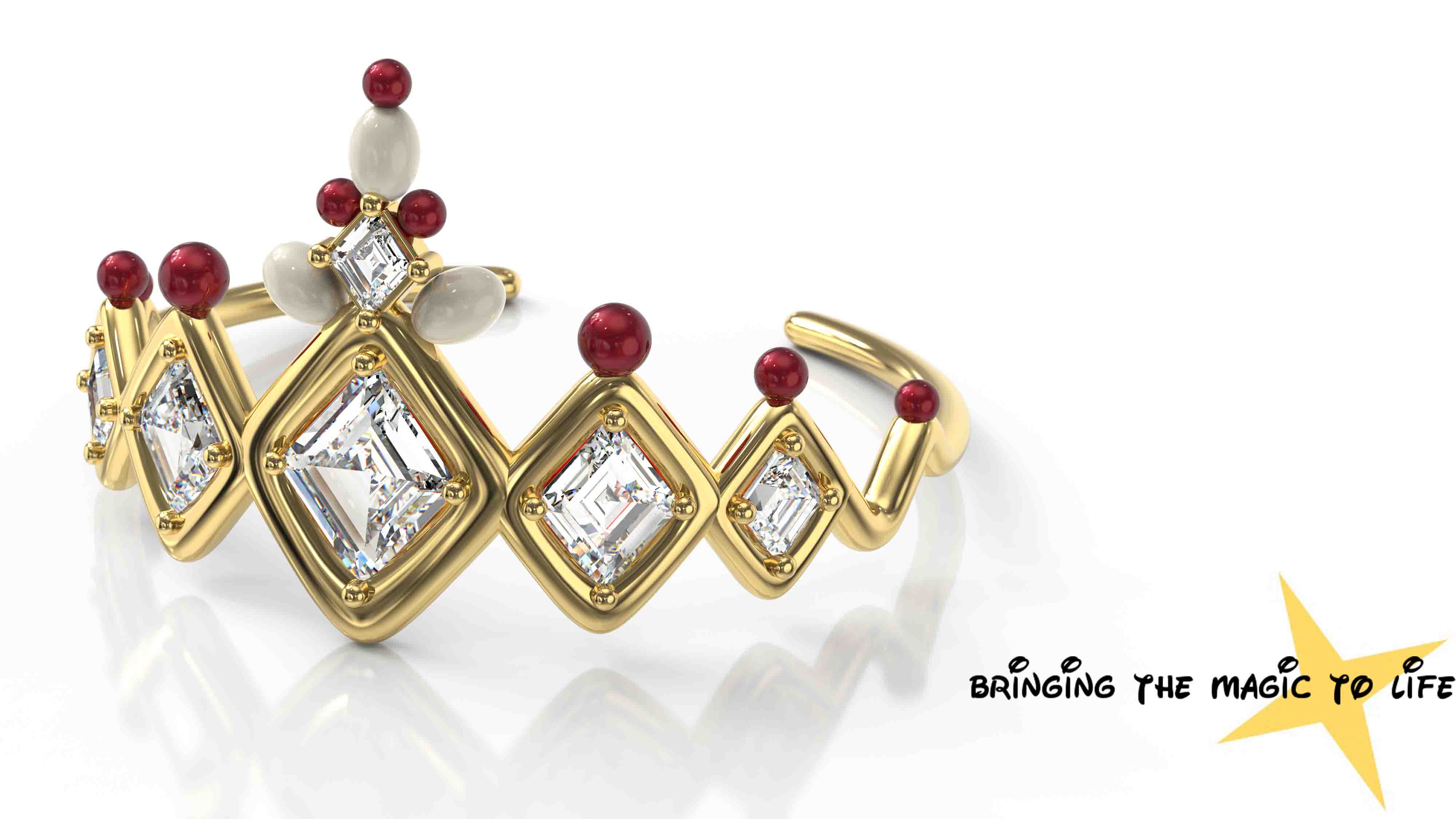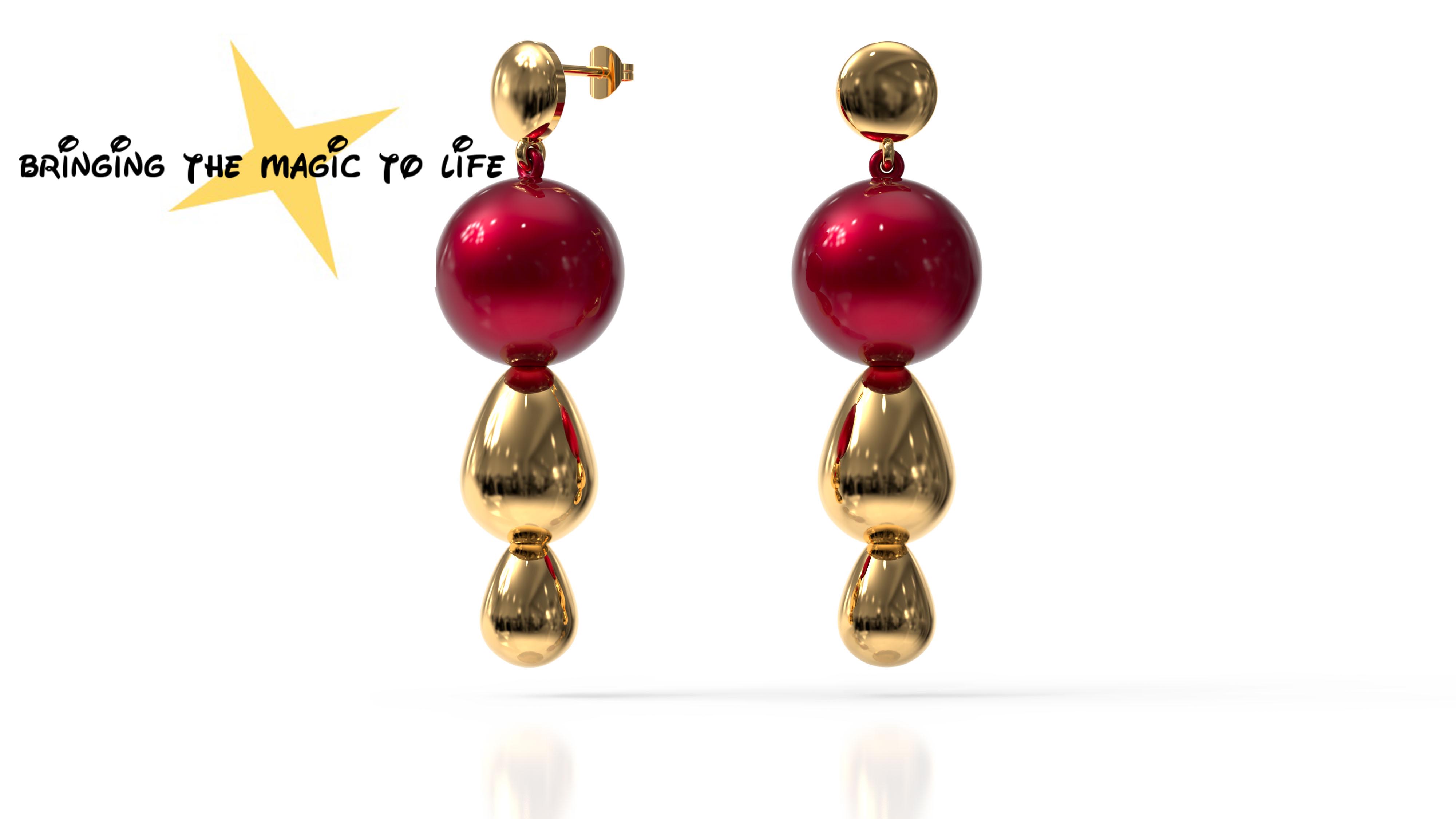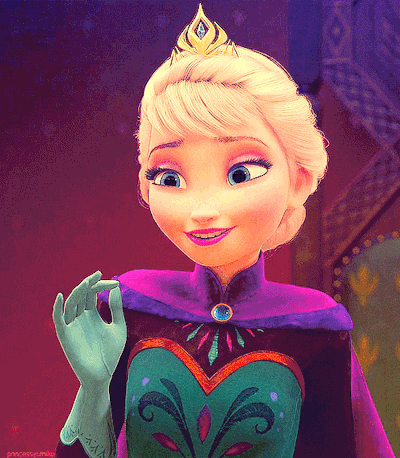 Let it go… let it go…. Since 2013 when Disney released the ever-popular movie Frozen we can't get this song out of our head! Elsa and Anna are two sisters living in Arendelle who are sadly orphaned at a young age. It is Elsa's mystical powers that create a rift in the sisters' relationship out of fear she will hurt Anna however we soon realise that love conquers all and it is love that can control her ice queen powers.
How we brought Elsa's tiara to life
We have designed a tiara that suits our ice queen Elsa perfectly. This tiara is made from solid platinum and has been delicately crated into shapes resembling dropping icicles. The stone we have used as the centrepiece is aquamarine. This stone is used to protect its wearer by calming fears and promoting self-confidence and courage. Aquamarine also breathes trust and helps you to let things go – very apt for Elsa!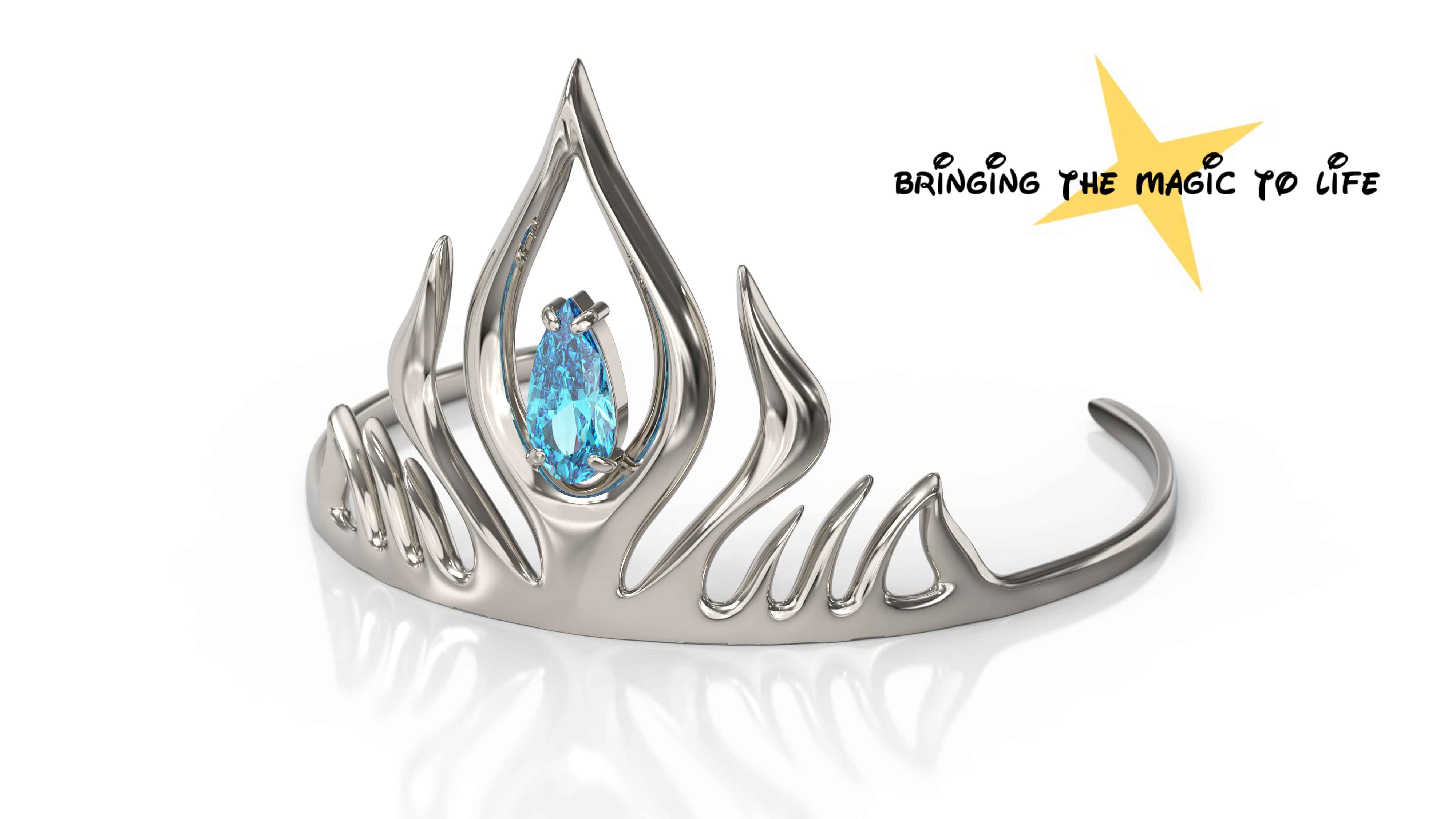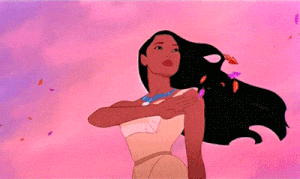 In 1995, Disney released the unforgettable movie Pocahontas based on a true story about a native American lady who fell in love with the English colonist John Smith. Their love story was complicated from the start. Pocahontas was the daughter of a native American chief, the tribe were protecting their village from the English colony who had come to invade and take away everything worthy from their land. To both the native tribe and the English colony's disgust, Pocahontas and John Smith's love blossomed. They had to keep their love for each other a secret until John Smith was captured to be killed by the tribe and Pocahontas was the one who saved him by putting herself in front of John Smith's soon to be dead body. Pocahontas protested that they must all put their differences aside and showed both the colony and the villagers that they could live in peace and harmony.
How we brought Pocahontas' necklace to life
Pocahontas' necklace is something that is very sacred as it was given to her by her late mother. We have created Pocahontas' necklace using hand-carved turquoise stone with a sterling silver droplet pendant. The colour we have used is soothing and calming to the eye and is used a lot in native American style jewellery. It is said when turquoise is given to you by someone special it will bring you good luck and fortune.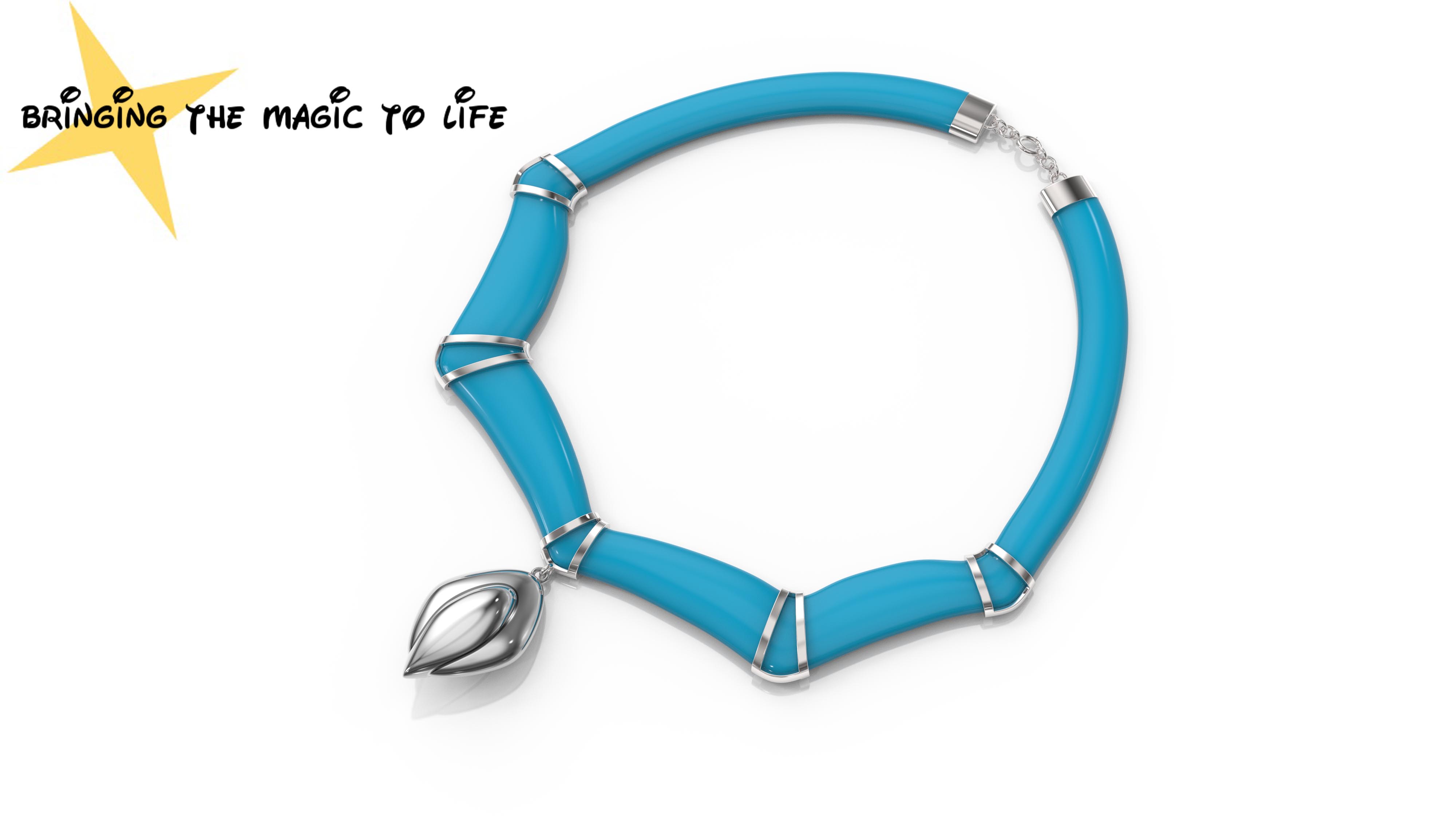 In 1973 Disney created an animal-themed adaptation of the well-known story that is Robin Hood. While Robin Hood and Little John are trying to help support the poor people of Nottingham, there is one very greedy and cowardly Lion standing in their way named Prince John. The jewellery Prince John owns is just incredible - he adores all things luxurious. He is the complete opposite to our admirable hero Robin Hood. Instead of taking from the rich and giving to the poor, Prince John taxes all the animals of Sherwood forest to improve his own wealth.
How we brought Prince John's rings to life
We have created replicas of Prince John's rings making them big, bold and eye-catching. All of the rings have been designed with an 18ct yellow gold band to match Prince John's crown. We have used very large emerald and ruby stones; we adore how these colours look together. These rings are definitely show-stopping and regal, it's just a shame Prince John's personality is quite the opposite!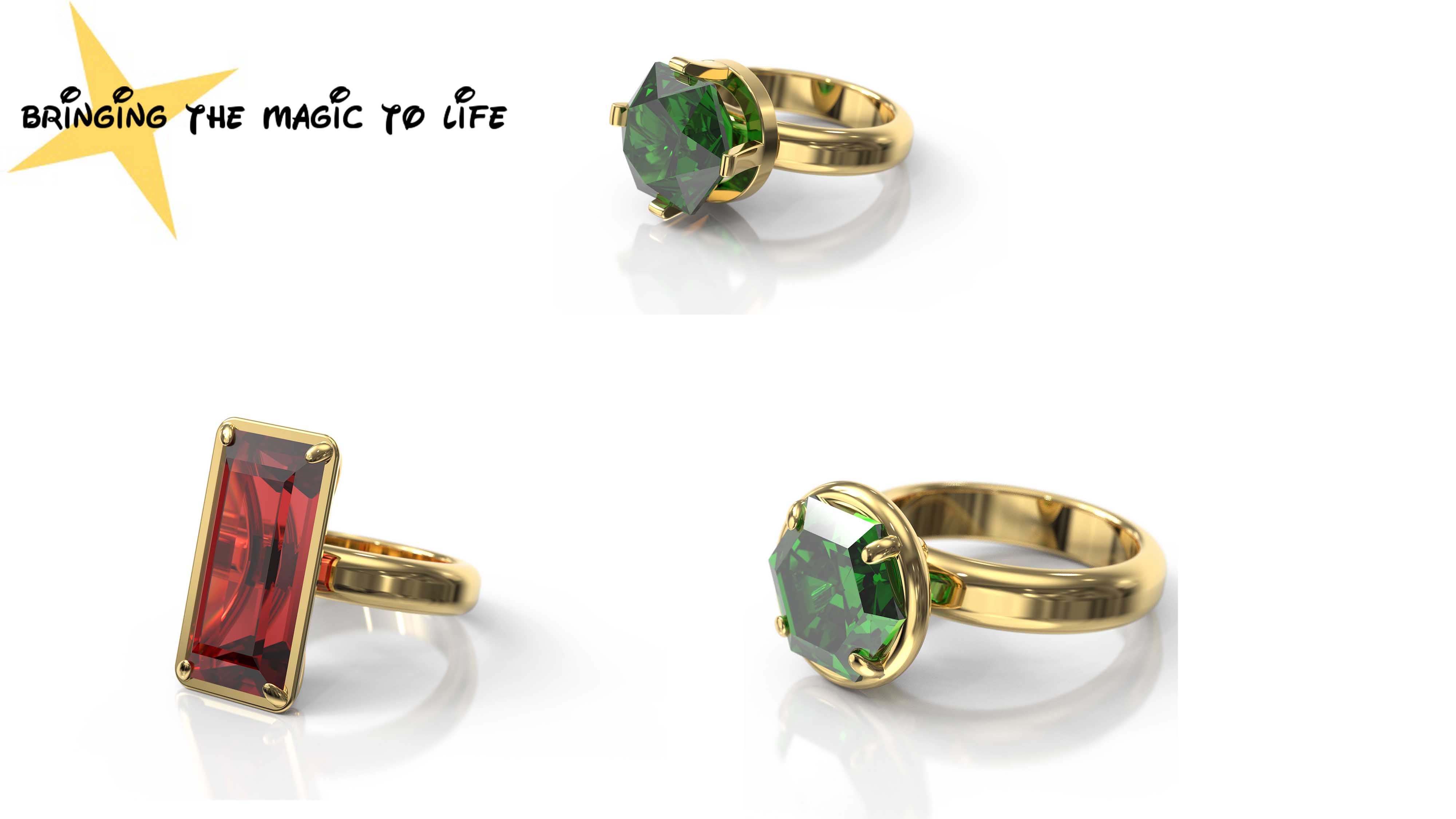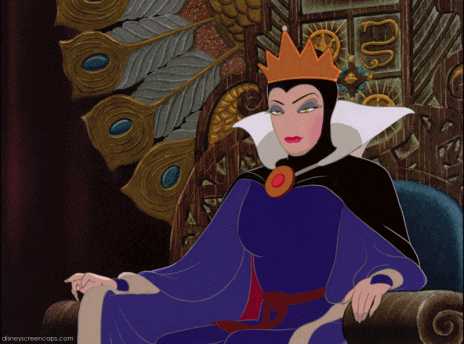 The evil stepmother in Snow White and the Seven Dwarfs is definitely a villain we all love to hate. Jealous of Snow White's incredible beauty, the evil queen plots to kill her to remain the 'fairest of them all'. She lures Snow White into eating a poisonous apple that will put her to sleep straight away. WHAT? I hear you cry! As the seven dwarfs prepare for poor Snow White's funeral, we are struggling to hold back our tears. But then we remember it wouldn't be a true Disney movie without a happily ever after would it? Just like that, a charming prince saves the day with a kiss that brings Snow White back to life! PHEW!
How we brought the evil Queen's necklace to life
We have designed a replicate of the evil queen's necklace using a large red garnet stone pendant on a white gold chain. The pendant itself is very bold and eye-catching – this piece screams 'look at me!'.  We have designed the necklace using the precious stone garnet as it is used to promote self-empowerment and confidence.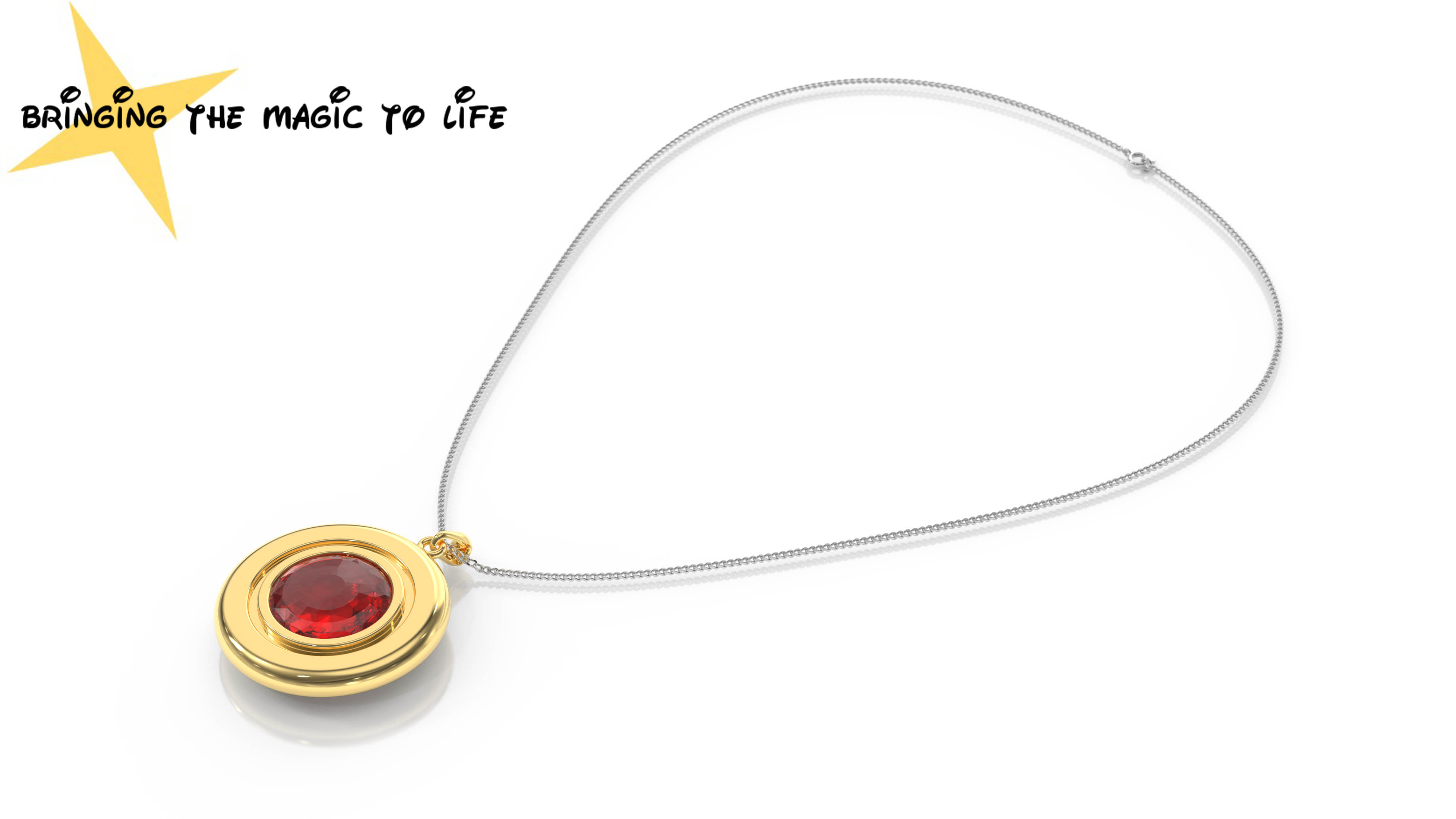 Sleeping Beauty is up there with the top iconic Disney movies we all loved to watch growing up. Princess Aurora (sleeping beauty) was cursed by the evil maleficent to die on her 16th birthday. Luckily Princess Aurora had three fairies on her side that helped to protect her. Instead of dying Princess Aurora fell into a deep sleep after being pricked by the needle of a spinning wheel. Princess Aurora was bought back to life with the kiss of a charming Prince and just like all classic Disney movies we were treated once again to another happy conclusion.
How we brought Sleeping Beauty's necklace to life
We have designed Princess Aurora's necklace using solid 18ct yellow gold in a V shape design to give a classic, simple yet elegant look. This necklace is a true statement piece fit for royalty.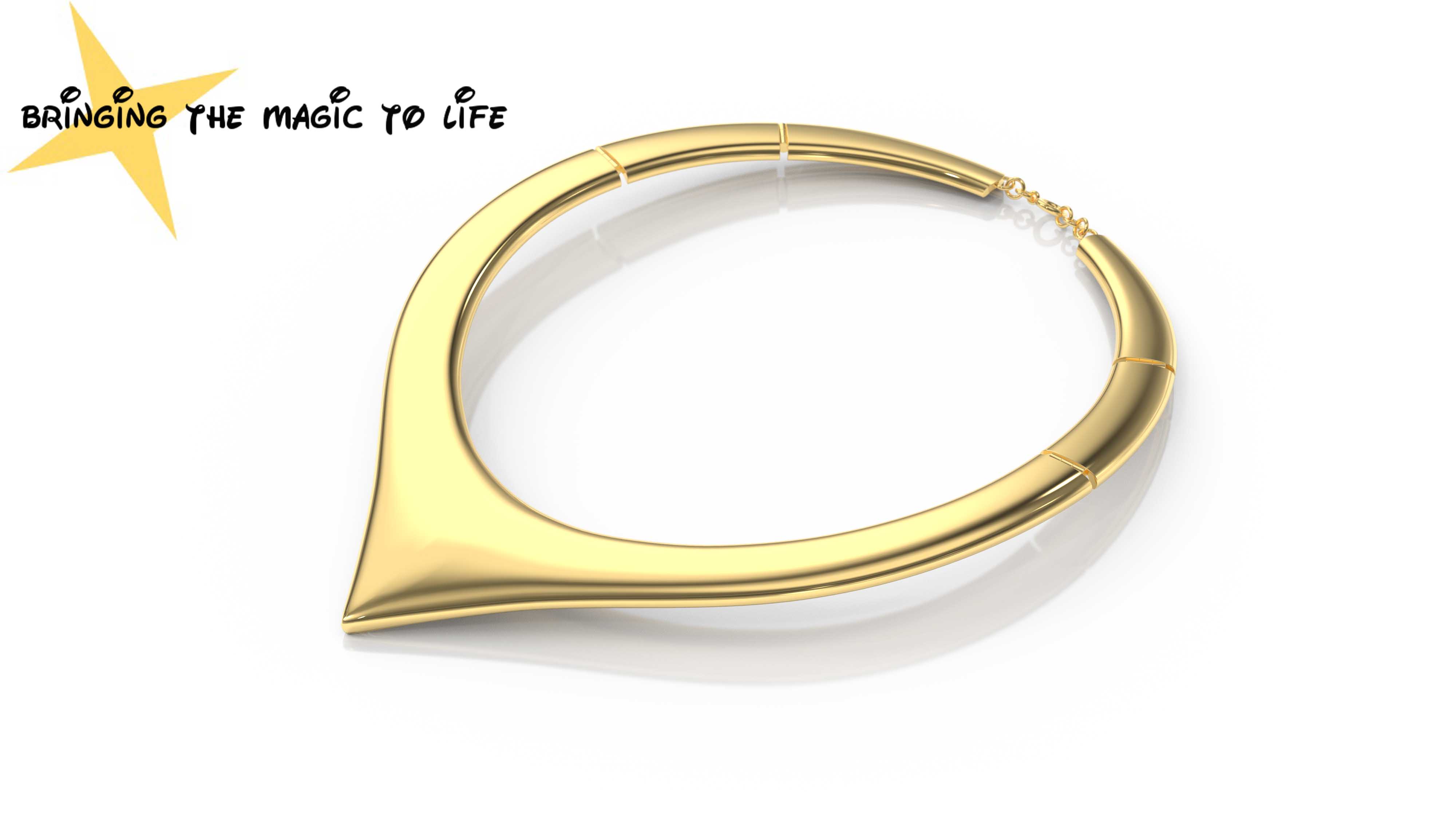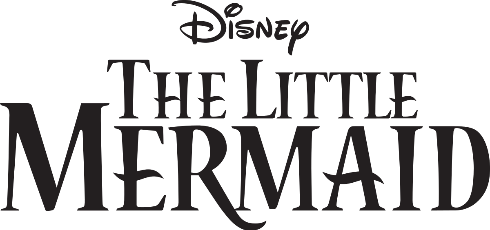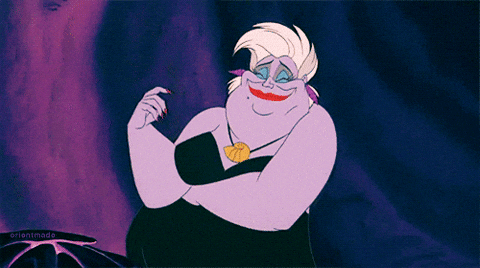 Set in the deep blue sea, full of talking magical sea creatures, this movie makes us wish mermaids were real! Ariel, the little mermaid, is the star of the movie; we follow her on her adventures in the ocean wishing to become a human living on the land.
Ursula is the villain in this movie, an evil and greedy half human half-octopus using her magical nautilus shell to try and rule the entire ocean. Although Ursula's personality is anything but admirable – we do love her jewellery!
How we brought Ursula's jewellery to life
We have designed Ursula's earrings using gold circular studs with large natural blue agate stones in the shape of conch shells. Blue agate would be the perfect stone for Ursula to wear as it is said to alleviate tension, stress, and anger passing on peace and tranquillity on to its wearer. We have designed Ursula's nautilus necklace is an 18ct gold shell pendant on a black cord. We love how the shell stands out and is a really unique ocean-inspired neckpiece.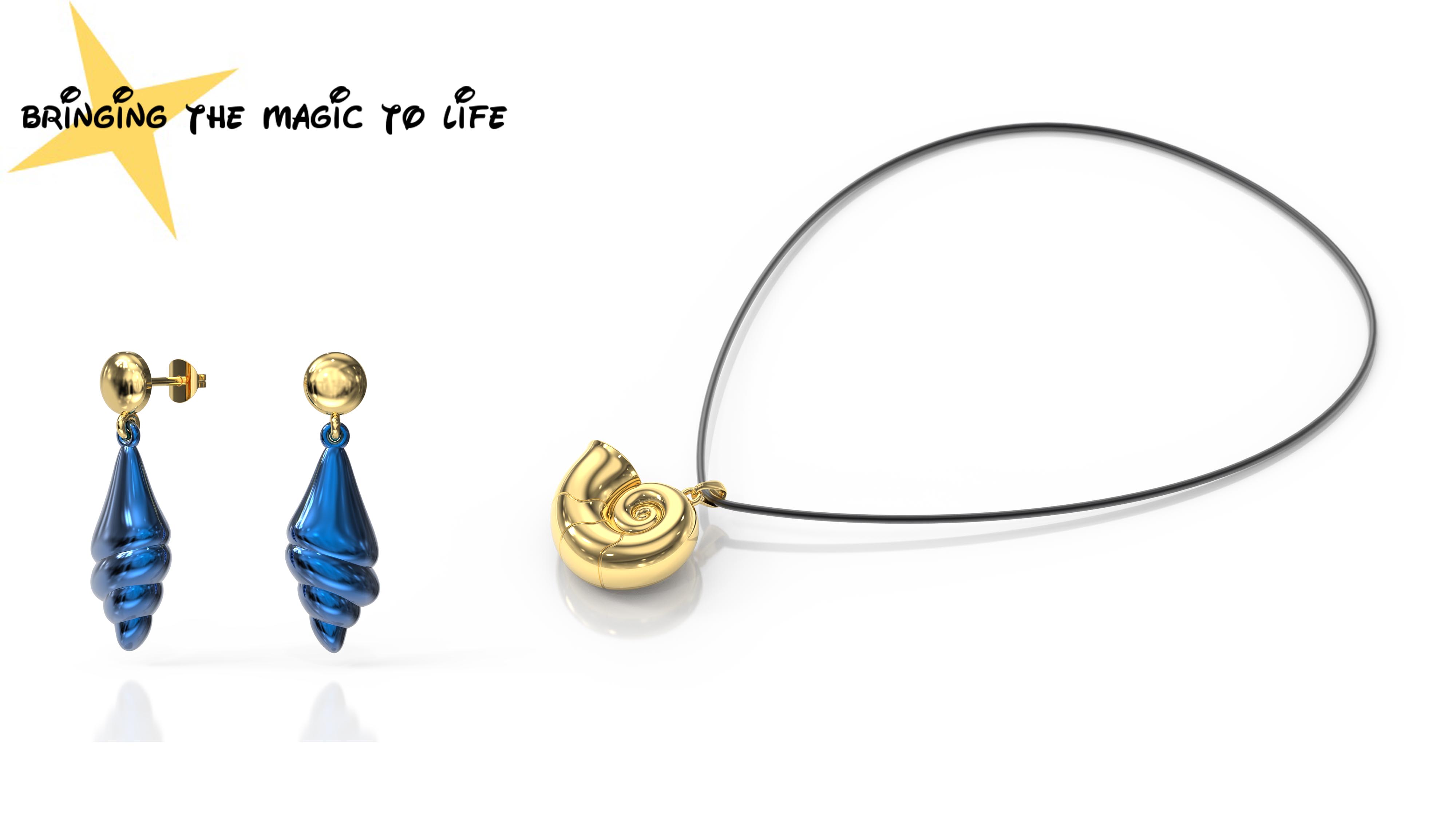 Credits:
Belle from Beauty & the Beast image from fanpop.com All animated .gif images from giphy.com