Why choose diamond cluster earrings
Are you struggling to find that 'perfect' gift or overwhelmed by the selection of gemstones available on the market?    Our most favourite gemstone at Diamond Treats, are diamonds!  Combining austerity, lustre and diversity, diamonds is our number one choice.  Below is a list of reasons explaining why a pair of diamond cluster earrings are the perfect gift.
Your perfect packaged gift: diamond cluster earrings
From marking a key celebration to a token of love and adoration, a pair of diamond cluster earrings are the perfect gift complimenting any occasion and any outfit.  A symbol of love and affection, diamond cluster earrings are the only choice for any romantic occasion.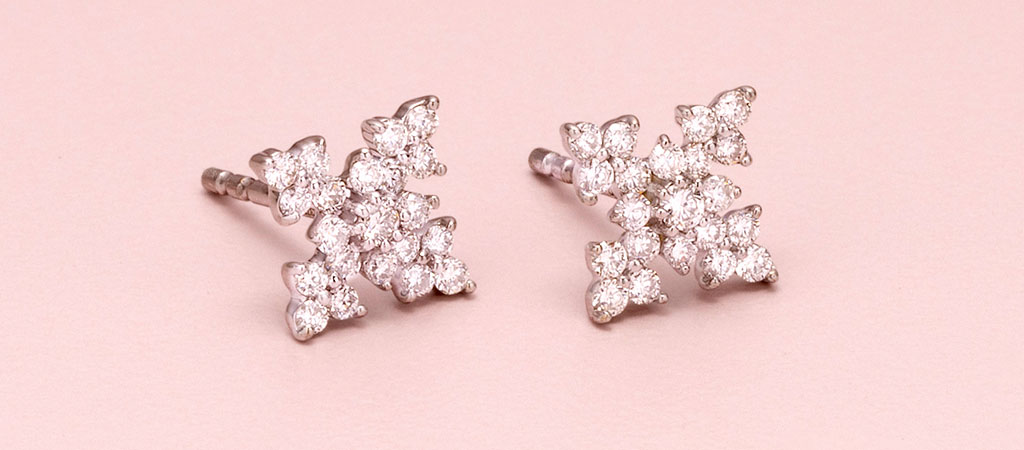 The original idea that diamonds symbolises romance, comes from an advertising campaign, created by De Beers in the 1940's.
In 1948, the diamond industry across the world, was performing poorly. By giving diamond rings to Hollywood stars and sending diamond related stories to newspapers, De Beers inadvertently, created a symbolic meaning behind diamonds.
In 1948, an article writer picked up on these stories and publicly penned the term 'A diamond is forever'.  Paving the way for diamonds in achieving that luxurious symbol of commitment – starting the boom for diamond demand!
Today, celebrities including Charlize Theron and Halle Berry, have been captured wearing  a pair of diamond cluster earrings.  Diamonds have evolved from a high quality fashionable accessory to a symbol of decadence and style.
Compliment your loved one or even your outfit with a pair today.
A cluster of diamond facts:
Every diamond tells its own story, which is why we have collected our favourite diamond facts; adding to the lustre and beauty of any pair of diamond cluster earrings:
One of the most famous and largest diamonds ever found was the 'Cullinan I Diamond'.  At 3,106 carats, it now forms part of the crown jewels and is set in the royal sceptre located in the Tower of London
The word diamond comes from the Greek word "adamant" which means steadfast or invincible.
If you shine an ultraviolet light on a real diamond it will glow in the dark for a few seconds
The youngest diamond is 900 million years old
Scientists can grow synthetic diamonds averaging 2.5 carats in 4 days
In 2004, scientists discovered a planet called 55 Cancri e.  The only discovered planet made from carbon and pure diamond