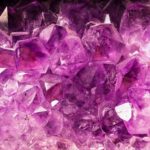 At Diamond Treats:
All our amethysts are natural gemstones.
We maintain excellent clarity and a lovely purple colour in all amethysts.
Our amethysts are cut with high precision for extra sparkle and shine.
Amethyst size and specifications are stated on the product pages of our website.
We provide certification with all our amethyst jewellery.

Amethyst and its Characteristics:
The Material:
Amethyst is a Quartz (silicate mineral).
Sturdy and resilient, it ranks 7 out of 10 on Mohs hardness scale.
Amethyst has a vivid purple colour due to Iron Impurities and irradiation.
It forms after silica rich liquids that contain trace amounts of iron fill hollow rocks under the right conditions.
Due to its properties and colour it is a very popular material for gemstone jewellery.
The Occasion:
Amethyst is the February Birthstone and is therefore a great Birthday gift for anyone born in February.
Amethysts are traditionally the 6th and 33rd wedding anniversary gift.
Perfect for relationship Anniversaries and romantic gifts.
Make for thoughtful graduation gifts and mother's day gifts!
The Energy & Symbology:
The amethyst is said to provide to the wearer with:
Trust in himself
Intuition
Spirituality
Amethyst
is also said to have healing powers that help with emotional and physical ailments. They are said to heal the nervous system and are also said to help with insomnia and bad dreams.

The Myth and the Meaning:
Amethysts are said to provide spiritual protection, clarity and emotional resilience.
Amethyst gemstones in Ancient Greece were said to ward off drunkenness and intoxication.
The name amethyst comes from the Ancient Greek and means "the one that cannot be intoxicated".
In greek Mythology the titan Rhea gifted Dionysus, the god of wine, with an
amethyst
gemstone to help him preserve his sanity.
The Lifestyle:
Amethyst Earrings are the preferred piece of jewellery for many Celebrities as well. Kate Middleton, Halle Berry, Nina Dobrev are some of the many names!
The History:
It was used as a gemstone by the Ancient Egyptians and in Antiquity was used for intaglio engraved jewellery.
Tibetans consider amethyst as a sacred stone and create beads out of the material to assist them with their prayers to Buddha.
Worn by the wealthy, the emperors and pharaohs in Ancient Greece, Egypt and the Roman Empire, amethyst was a stone symbol of guidance and clarity for royals and of wealth for Ancient Greeks.