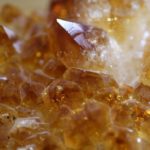 At Diamond Treats:
All our Citrines are natural gemstones.
We maintain excellent clarity and a lovely yellow colour in all Citrines.
Our Citrines are cut with high precision for extra sparkle and shine.
Citrine size and specifications are stated on the product pages of our website.
We provide certification with all our citrine jewellery.

Citrine and its Characteristics:
The Material:
Citrine is a variety of quartz (silicate mineral).
Sturdy and resilient, it ranks 7 out of 10 on Mohs hardness scale.
Citrine has a golden brown to yellowy orange hue due to ferric impurities in the stone.
Due to its properties and colour it is a very popular material for gemstone jewellery.
Brazil is the leading producer of citrine, with much of its production coming from the state of Rio Grande do Sul.
The Occasion:
Citrine is a November Birthstone. An ideal Birthday gift for anyone born that month.
It is also a traditional 17th wedding anniversary gift.
Perfect for relationship Anniversaries and romantic gifts.
Make for thoughtful graduation gifts and Mother's Day gifts.
Energy & Symbology:
This stone is said to provide to the wearer with:
Light and Happiness
Flexibility
Confidence
This stone is said to have emotionally healing properties. It is associated with spiritual enlightenment and is said to help with emotional instability.

The Myth and the Meaning:
In ancient folklore, citrine was thought to be protection against snake poison.
When worn as a talisman it was thought to ward off evil thoughts end envy.
Until the 19th century it was thought that topaz and citrine are the same crystal. While virtually indistinguishable they are of entirely different
The Lifestyle:
Citrine is a very glamorous gemstone. It's lustre and shine when emphasized by an intricate cut it is a sight to behold even for the most demanding.
It was used as a go to gemstone together with amethyst to create jewellery and signets for royals throughout the ages. The Citrine is a preference among celebrities as well.
Many celebrities like Kate Middleton and Emma Watson have been spotted rocking stunning citrine jewellery!
composition.
The History:
According to the beliefs of the ancient Chinese the citrine gemstone was thought to be a stone that promoted success and the reason behind that is that they thought it improved rationality and intellect.
Citrine was also a stone that was associated with two Goddesses. The first one is Sekhmet, the god embodiment of war in Ancient Egyptian mythology and the second one is Demetra, the Ancient Greek Goddess of harvest.
Citrine was first appreciated as a golden-yellow gemstone in Greece around 300 and 150 BC. The yellow quartz was used prior to that to decorate jewelry and tools but it was not highly sought-after.