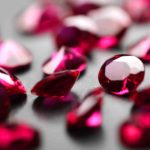 At Diamond Treats:
All our rubies are natural gemstones.
We maintain excellent clarity and a lovely deep red colour in all rubies.
Our rubies are cut with high precision for extra sparkle and shine.
Ruby size and specifications are stated on the product pages of our website.
We provide certification with all our ruby jewellery.
Ruby as the status quo of gemstone jewellery:
The Material:
Made out of the material Corundum.
Sturdy and Resilient, ranks 9 out of 10 on the hardness scale.
Crimson red colour due to chromium inclusion in the gemstone.
They are mined mostly in Mozambique,Thailand and Cambodia.
The Occasion:
Ruby is July's Birthstone. Ideal Birthday gift for anyone born that month.
Ancient lore tells us that a ruby is capable of reconciling lover's quarrels. Makes for the perfect making up gift.
It is also an ideal 40th wedding anniversary gift.
Perfect for relationship Anniversaries and romantic gifts.
Energy and Symbology:
Ruby
is a stone that is said to shield against emotional damage and negativity. It also is said to provide the owner with:
Courage
Selflessness
Emotional stability and joy
The Myth and the Meaning:
A ruby engagement ring is said to express passion and promise.
A heart-shaped ruby is said to attract love when worn over the heart in a red velvet bag filled with seashells.
A ruby gemstone is said to promote enthusiasm, vigour and passion for life.
It is also believed to promote dynamic leadership.
The Lifestyle:
Ruby Jewellery has since ancient times been associated with wealth and prosperity.
In Dec 2011, Elizabeth Taylor's jewellery collection was sold off on auction. Notably a ring set with an 8.24 carat gem that broke the 'price-per-carat' record for rubies - $512,925 per carat, estimated $4.2m in total!
Some Notable Celebrities who wear rubies include: Dannii Minogue, Demi Moore, Taylor Swift, Kate Nash and more.
The History:
Rubies are mentioned four times in the Bible, in association with attributes like beauty and wisdom.
In the language of Sanskrit, ruby is called ratnaraj, or 'king of precious stones'.
The regal & wealthy classes had exquisite collections of rubies. It personified the symbol of power for the mighty rulers.
Ruby comes from the Latin origin ruber, meaning red.