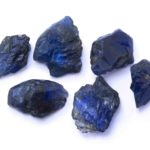 At Diamond Treats:
All our sapphires are natural gemstones.
We maintain excellent clarity and a lovely dark blue colour in all sapphires.
Our sapphires are cut with high precision for extra sparkle and shine.
Sapphire size and specifications are stated on the product pages of our website.
We provide certification with all our sapphire jewellery.

Sapphire as the status quo of gemstone jewellery:
The Material:
Made out of the material Corundum.
Sturdy and Resilient, ranks 9 out of 10 on Mohs hardness scale.
Deep Blue colour due to titanium and iron inclusions in the gemstone.
The Occasion:
Sapphire is September's birthstone. Ideal Birthday gift for anyone born that month.
Perfect gift  to show respect and appreciation to your loved ones.
It is also an ideal 5th and 45th wedding anniversary gift.
Perfect for relationship Anniversaries and romantic gifts.
Excellent as the centerpiece of engagement rings.
Energy and Symbology:
Sapphire
is said to provide the wearer with:
Emotional Resilience
Inner Peace
Critical thinking
Sapphires
are said to heal mental ailments and stress. Their deep blue resonating colour is soothing to the eyes and is said to have mind calming properties.

The Myth and the Meaning:
The sapphire was originally thought to protect the wearer against evil.
It was also thought to protect against poisoning (which was relatively common amongst the Ancient Persian societies).
The sapphire also symbolizes sincerity, harmony, peace, and faithfulness.
Sapphires were also a symbol of royalty in the Medieval and Anglo-Saxon era.
The Lifestyle:
Kate Middleton, the Duchess of Cambridge is known as one of the most famous celebrities to wear sapphire jewellery. Her engagement ring was, first worn by Princess Diana and consists of 12 solitaire diamonds and a 12-carat oval sapphire set within 18-carat white gold. Crazy!!
Anna Kournikova demonstrates just how beautiful the pink sapphire can be as she wears her £2 million engagement ring (from Enrique Iglesias, no less) everywhere, even on the tennis court.
There were two 'Heart of the Ocean' sapphire necklaces used within the filming of Titanic… one that was designed and created by Harry Wilson, which featured a blue sapphire as well as a $20 million price tag, and another which featured a 12-carat blue diamond which cost a comparatively measly $10,000.
The History:
Sapphire was used in jewellery making since antiquity. Most notably by Ancient Egyptians and Ancient Greeks.
Sapphire took its name from the ancient Greek word "sapphiros" which literally translates to "blue".
In ancient Greece and Rome, royals believed that blue sapphires protected their owners from envy and harm.