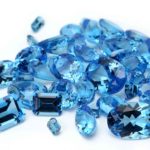 At Diamond Treats:
All our Topaz stones are natural gemstones.
We maintain excellent clarity and a lovely bright blue colour in all Topaz.
Our Blue Topaz are cut with high precision for extra sparkle and shine.
Topaz size and specifications are stated on the product pages of our website.
We provide certification with all our Blue Topaz jewellery.
Topaz and its Characteristics:
The Material:
Sturdy and Resilient, ranks 8 out of 10 on Mohs hardness scale.
Variety of Colours due to Inclusions or Treatment.
Topaz is a silicate mineral of aluminium and fluorine.
Topaz can be found near cassiterite and fluorite deposits or alluvial placer deposits.
Most common locations include North and South America.
The Occasion:
November's birthstone is topaz. Ideal Birthday gift for anyone born that month.
It is also an ideal 4th year wedding anniversary gift.
Perfect for relationship Anniversaries and romantic gifts.
Make for thoughtful graduation gifts and mother's day gifts!
The Energy and Symbology:
Wearing
blue topaz
Jewellery is said to provide the wearer with:
Confidence
Creativity
Wider attention span
Blue topaz
is a stone that promotes joy, creativity and mindfulness. It is said to promote emotional stability, abundance and has also some physical healing abilities. It is believed that it is a stone that keeps your health stable and even heals you get well sooner if you are troubled by ailments.
The Myth and the Meaning:
The Greeks believed that topaz gave them divine strength
It was believed that wearing a topaz pendant necklace enhances confidence and also restores lost energy.
If worn above the heart it was said to assures long life, beauty and intelligence.
The Lifestyle:
Topaz is a very beautiful stone. It is so beautiful that people use Synthetic Topaz to create sculptures and luxurious home decor!
Among many other celebrities Lisa Rinna wife of US actor Harry Hamlyn was spotted wearing Topaz at the Daytime Emmy Awards, in August 2014
Blue Topaz is used by numerous high fashion and high jewellery brands as a go-to option for bold centre gemstone pieces.
The History:
Topaz was used in jewellery in antiquity a lot. With Ancient Greeks using it foremost, together with Amethyst.
Topaz was worn by the Ancient Egyptians as a talisman to prevent injuries
The word topaz is thought to have derived from the Greek word "Τοpáziοs" which literally translates to "the one that comes from the Island of Topazos".